Calibrachoa, also known as million bells, is a genus of approximately 25 species of annual and perennial herbs in the family Solanaceae. The plants are native to South America, but some have been introduced to other parts of the world.
The flowers are tubular and come in a variety of colors, including pink, purple, red, orange, yellow, and white. Calibrachoa flowers bloom continuously from summer until fall and attract bees, butterflies, and hummingbirds.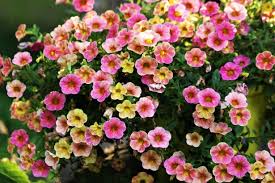 Proven Winners Superbells flowers are a type of Calibrachoa that is perfect for growing in hanging baskets or containers. They are known for their long blooming season and ability to tolerate heat and humidity. Calibrachoa Superbells come in a variety of colors, including pink, purple, red, white, and yellow.
To grow, start with young plants that have healthy green foliage and fuzzy white roots. Calibrachoa Superbells need full sun to partial shade and well-drained soil. Water regularly, but do not over water. Fertilize every two weeks during the growing season. Deadhead spent blooms to encourage new growth. Calibrachoa Superbells are annuals and will need to be replanted each year.
Videos of Calibrachoa Superbells Flowers