Huernia zebrina, Lifesaver Plant
The Huernia zebrina, also known as the lifesaver plant, is a stunning succulent houseplant that requires little space and is easy to grow. It has an unusual flower with 5-pointed yellow star-shaped petals banded in coppery brown with a dark red lifesaver rim. This low-growing perennial succulent can form mats and is native to Namibia, Botswana, northern South Africa, Zimbabwe, and Mozambique.
Caring for this plant is relatively simple. It prefers bright indirect light and should be watered when the soil has dried out completely. It's important to avoid overwatering as it can cause root rot. Fertilize sparingly during the summer months but make sure to dilute it to half strength.
If you're looking for an easy care houseplant with a unique look, the Huernia zebrina is perfect for you! With its striking flowers and low maintenance needs, it's sure to bring life into any room of your home or office.
How do you care for a lifesaver plant?
Growing Huernia zebrina, or the lifesaver cactus, is relatively easy if you follow these guidelines:
Soil: Use a well-draining soil mix, ideally one that is specifically formulated for cacti and succulents. You can make your own mix by combining equal parts of potting soil, coarse sand, and perlite or pumice.
Container: Choose a container with drainage holes to prevent excess water from accumulating, which can lead to root rot. A shallow, wide container is preferable, as Huernia zebrina has a shallow root system.
Light: Huernia zebrina prefers bright, indirect light or partial shade. If grown indoors, place it near a south or east-facing window. Outdoors, place the plant in a spot with filtered sunlight or light shade, as direct sunlight can cause sunburn on the stems. Life saver plants grow underneath shrubs or other plants in nature. Too much sun can cause stems to develop protective reddish and purple pigmentation, which may scald the plant tissues if it's not properly protected from direct sunlight exposure (not enough shade).
Water: Water the plant sparingly, allowing the soil to dry out completely between waterings. During the growing season (spring and summer), you may need to water more frequently, while in the dormant season (fall and winter), reduce watering. Be careful not to overwater, as this can lead to root rot.
Temperature: Huernia zebrina thrives in temperatures between 60°F and 80°F (15°C and 27°C). Protect the plant from extreme temperature fluctuations and frost, as it is not cold-hardy.
Fertilization: During the growing season, you can apply a balanced, water-soluble fertilizer diluted to half the recommended strength once every 4-6 weeks. Do not fertilize during the dormant season.
Propagation: Huernia zebrina can be propagated by stem cuttings. Allow the cut end of the stem to dry and callous for a few days before planting it in well-draining soil. Keep the soil slightly moist until the cutting establishes roots.
Pests: Keep an eye out for common pests like mealybugs, aphids, and spider mites. If you notice any infestations, treat them with insecticidal soap or a suitable pesticide.
With proper care, your Huernia zebrina should grow and produce its unique, eye-catching flowers. Remember that the flowers emit a foul odor, so you may want to keep the plant in a well-ventilated area or outdoors during its blooming period.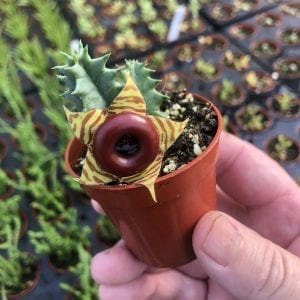 Toxic?
This plant is part of the milkweed family which means it is toxic to animals and people if ingested or if the latex "sap" gets into your eyes. Make sure to wash your hands after touching this plant because its white latex can cause eye damage. If you eat any of the raw material it might result in digestive problems or other negative reactions. This plant should absolutely not be in a place where it can be easily reached by children or pets.
*Image represents a living plant, size and color may slightly vary due to growing conditions. Plants can not be shipped to Hawaii, US Territory or outside USA.