Huernia zebrina, Lifesaver Plant
Looking for an easy-to-grow succulent? Look no further than the Huernia zebrina life saver plant! This amazing succulent can easily survive low light levels, irregular waterings, and excessive heat – making it the perfect houseplant companion! In addition to its hardy nature, this plant also has an unusual beauty when in bloom. So if you're looking for a low maintenance plant that will add some flair to your home, then the Huernia zebrina life saver plant is the perfect choice! Thanks for reading and happy gardening!
How do you care for a lifesaver plant?
Life saver plants grow underneath shrubs or other plants in nature. Too much sun can cause stems to develop protective reddish and purple pigmentation, which may scald the plant tissues if it's not properly protected from direct sunlight exposure (not enough shade).
Lifesaver cactus are intriguing, beautiful plants that can be grown as indoor or outdoor container patio containers. They require excellent drainage and like to grow in pots with neutral soil pH levels for best results- Huerinia zebrina is one such plant species which will thrive between 50 -80 degrees Fahrenheit but avoid freezing temperatures since they have sensitive!
When life saver plants are actively growing, they need to be watered one inch deep between watering sessions. During inactive growing season, fertilizers can be applied at half strength once monthly; alternatively blood meal or bone Meal mixed into a small amount of garden compost will suffice as well!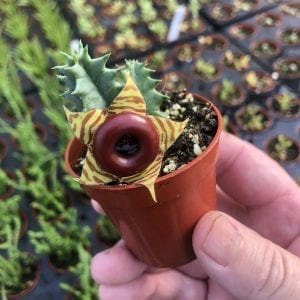 Toxic?
This plant is part of the milkweed family which means it is toxic to animals and people if ingested or if the latex "sap" gets into your eyes. Make sure to wash your hands after touching this plant because its white latex can cause eye damage. If you eat any of the raw material it might result in digestive problems or other negative reactions. This plant should absolutely not be in a place where it can be easily reached by children or pets.
*Image represents a living plant, size and color may slightly vary due to growing conditions. Plants can not be shipped to Hawaii, US Territory or outside USA.