String of Dolphins, Senecio peregrinus
The String of Dolphins plant is a beautiful and unusual succulent that is native to South Africa. also known by its scientific name, Senecio peregrinus, this plant is characterized by its long, slender leaves that are arranged in a "dolphin" shape. While the String of Dolphins plant is easy to care for, it does require some special attention in order to thrive. First and foremost, this plant requires bright light in order to produce its striking leaves. It also needs well-draining soil and regular watering, although it should be allowed to dry out completely between waterings. With proper care, the String of Dolphins plant can make a stunning addition to any indoor or outdoor space.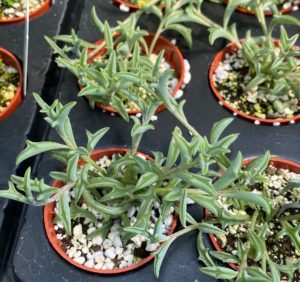 String of Dolphins is a succulent with long, trailing stems that are covered in small, "dolphin" shaped leaves. Native to Africa, this plant is easy to care for and can be grown indoors or out. When growing String of Dolphins, it is important to provide bright light and well-drained soil. The plant can tolerate some drought, but it will produce more foliage if given regular watering. In winter, String of Dolphins growth slows down, goes dormant, and should be kept slightly drier than usual. With proper care, this plant will thrive and produce an abundance of beautiful foliage.
Sunlight
Full Sun
Water
Once established, water occasionally; more in extreme heat or containers.
Humidity
Low
Temperature
Hardiness Zone: 7+